Have you been looking for ideas to design a modular kitchen without burning a hole in your pocket? Well, we have it covered for you. Designing and installing a modular kitchen on a budget may not seem easy. However, it can be done with some smart planning and designing. A modular kitchen can be designed with cheaper, easily available alternatives, without compromising on aesthetics, functionality and quality.
Here are a few tips to help you design a budget-friendly modular kitchen.
How to Get Your Modular Kitchen on a Budget?
Your requirements for a cooking space are unique. You will need a tailor-made design that fits your usage requirements, available space and budget. Consider your cooking style as well. Are you someone who needs an extra counter space? Do you bake a lot? Or need extra space to fit in a bigger fridge? Do you want to store your cutlery and bone china in your kitchen?
Bottom & Overhead Cabinets
Open cabinets play a significant role in planning a Modular Kitchen on a Budget as it reduces the number of materials needed. Fittings and fixtures like handles on the units or knobs can also be reduced in such cases. The mix of closed and open shelving units will ensure lower costs.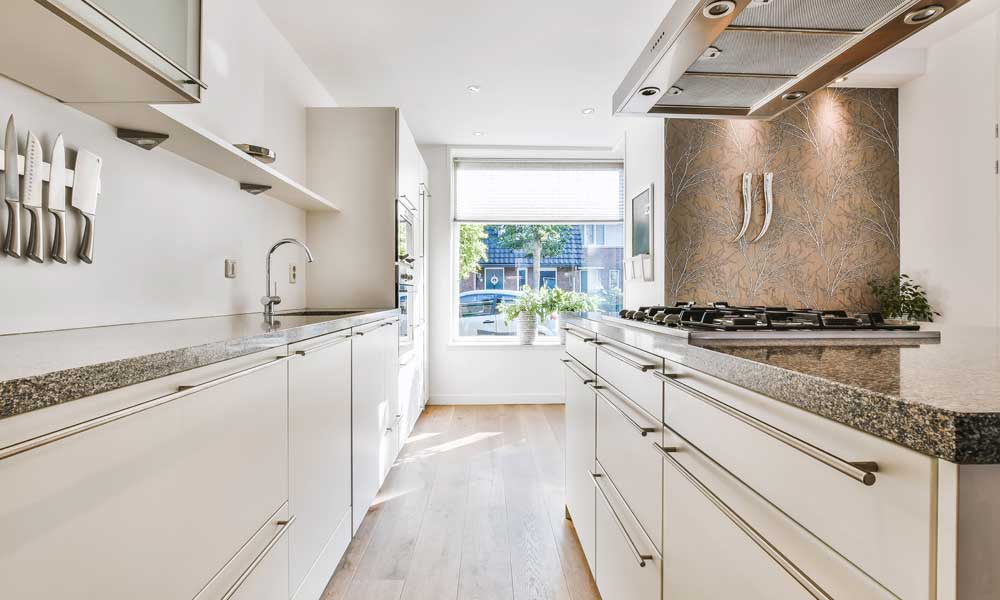 Now let's look at the materials to choose for your kitchen Cabinets
For planing a Modular Kitchen on a Budget, laminates are a great option. They are durable, come in a variety of colours, and are easy to maintain.
Wood veneers are a good option too. They are thin wood sheets pasted on a surface like MDF or plywood. They aren't as expensive as wood but give the stylish look of an all-wood kitchen and provide protection against moisture and termites as well.
Poly-vinyl chloride (PVC) sheets are made of tough composite plastic. They are installed without a substrate. If you want to stick to a wood finish, look for PVC sheets with faux wooden grains and molding. but then these choices don't give your kitchen a luxurious feel.
Steel or aluminum is another durable option for kitchen cabinets, if you are planning for Modular Kitchen on a Budget.
Let's look at the flooring
Look into alternative flooring options. While luxury granite and marble floors are appealing, they might just break your bank account. Ceramic tiles that closely resemble natural stone and vitrified tiles are a great option that fits into most budgets.
CounterTop, Kitchen Sink & Fridge
There are quite a lot of options available in the market when it comes to countertops. Granite and marble are some of the cost-effective solutions. However, a marble countertop may not be ideal, as it stains easily.
 A sink for kitchen should be convenient to use and aesthetically add to the cohesive look of the décor.
Stainless steel (SS) sinks are the most popular when it comes to home owner's choices due to their compact design, durability, and ease of cleaning. Stainless steel resists corrosion, does not chip, crack or wear out, and is also non-porous and hygienic. 
Let's Colour your Kitchen
 Instead of whitewashing the kitchen, pick a bright colour that complements your cabinetry and adds a dash of personality to your cooking space. 
Go for a neutral shade if that's what you like, and don't shy away from painting your kitchen a deep hue. On a wall that doesn't face much heat from the stove, you can install a heat and grease resistant wallpaper. A little colour can never burn a hole in your pocket!
Modular Kitchens Designer
Modular kitchens seem like distant dreams, especially in small spaces even with a hope of a Modular Kitchen on a Budget.
But with some planning, you can turn your dream into reality without creating a huge tooth for your savings. Browse our gallery of modular kitchen designs to see our work and find ideas for affordable kitchen cabinets and designs to help you create a perfect one for yourself!